Spreedbox: A new Generation of Collaboration
Kickstarter: Progress Update #2
Shipment will start in December
The Spreebox is in production now. We just got the first pieces from the pre-production run. The case is simply looking awesome. The color and quality of the hard-anodized Aluminum surface looks and feels even better than the surface of an iMac or MacBook Pro. We are going to ship 50pcs to our early backers in December. About 60pcs will be first-order-comes-first delivered to our backers in January and 40pcs. to customers. We expect to have fully ramp-up the production line for the Spreedbox in February taking standard orders for the Spreedbox.
To keep a long story short
There were myriads of difficulties to overcome for volume production of the case and its packaging. Just to name few of them: major issues with the CAD drawing, availability of special Aluminum alloys with the required size, significant cost impacts, wrong CAD drawings for packaging. For instance materials. We do not use the AlSi1 alloy as it was warmly recommended by our first supplier. The packaging of the Spreedbox we got two weeks ago was by accident upside down and the height of the outer packaging was too long. All redone!
Precision suppliers
The Spreedbox case is produced by precision instrumentation suppliers. Below are photos from my visit at Zeiss Oberkochen. Your Spreedbox is milled from the big block in the photo which weights more than 6kg (13.2lb). The final weight of the Spreedbox including electronics is 1.3kg (2.86lb).
Spreedbox Software
The Spreedbox will come with the newest Nextcloud software and the hardware key generator with re-configurable Lattice ICE40HX1K-VQ100 FPGA.
Spreed.ME
The Spreed.ME app for iOS was just released hours ago from Apple review. Currently, US app store only because of crypto export. France and world to follow. See https://itunes.apple.com/app/spreed.me/id1058498417?mt=8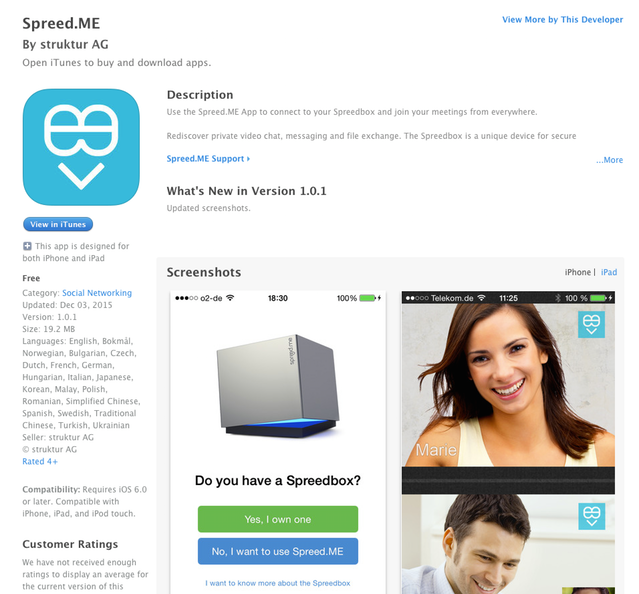 Nextcloud
The Spreedbox will ship with Nextcloud.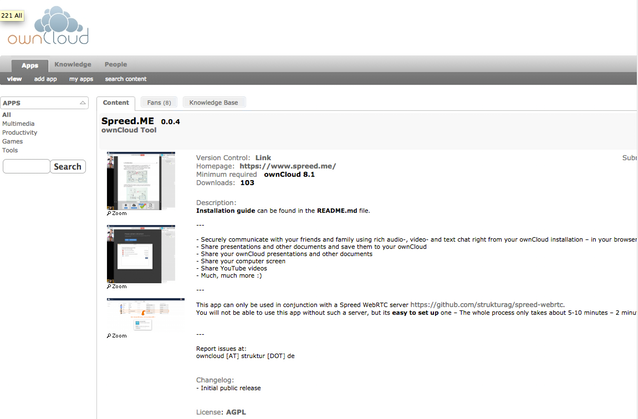 Raw material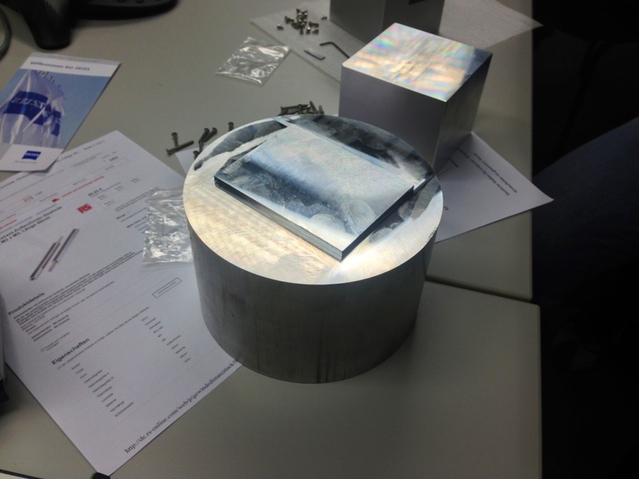 After milling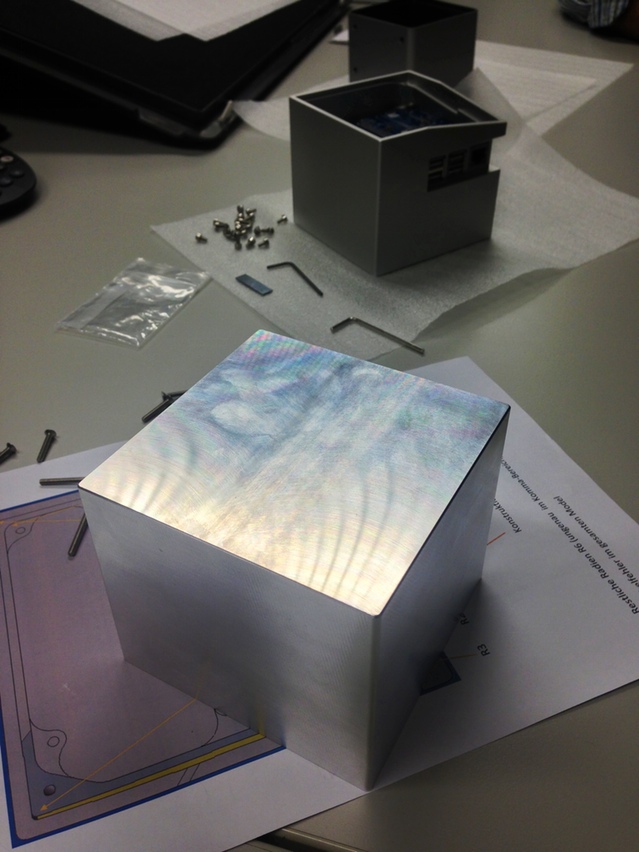 Does it fit?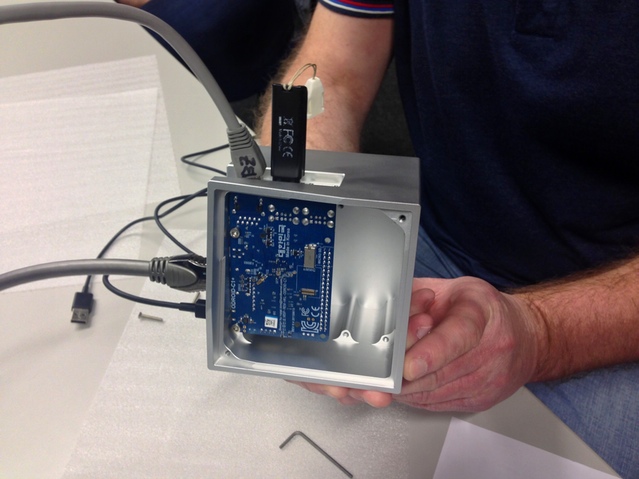 Spreedboxes in the box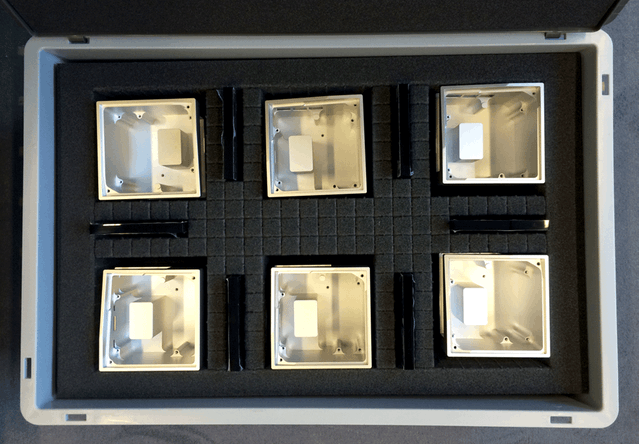 Odroid C1+ fitting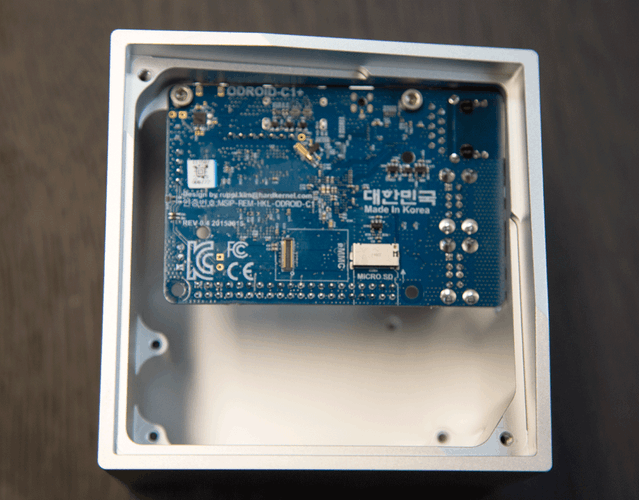 Diamond milled precision after hard anodizing
Better looking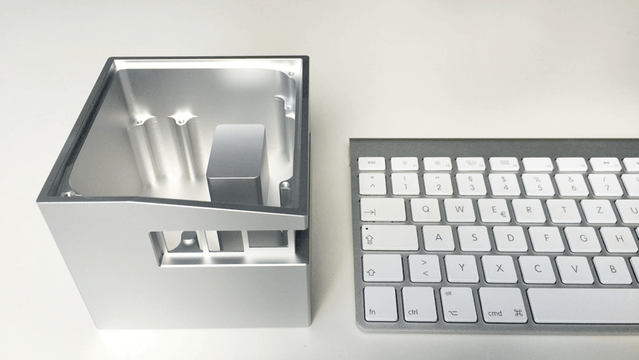 Transport packaging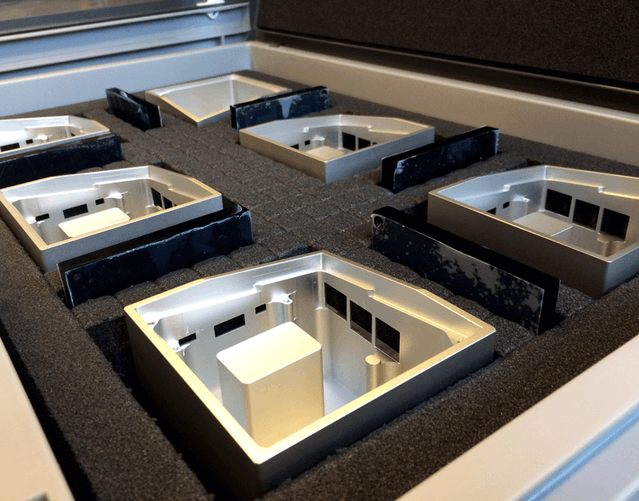 More looking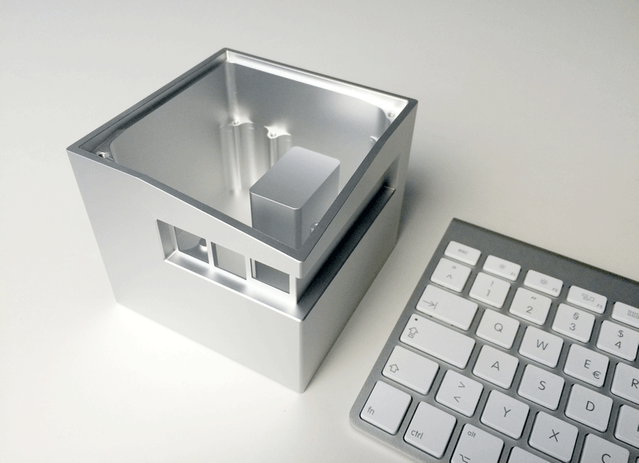 Progress Update #1
Dear backers,
in the past 6 weeks we have been astonishing busy with the production planning and design. We changed and improved the aluminum body for the Odroid C1+ released in September, we developed packaging, worked on HWRNG add-ons and planned the volume test and production.
Ordering of main components
The components have been ordered and arrived in our Stuttgart/Germany office in September. Have a look. To the right you see the EW-7811UN Wireless USB Adapters, 150 Mbit/s, IEEE802.11b/g/n. You will get the WLAN adapter with your Spreedbox. The MicroSD cards will be ordered just before shipment as we want to ship your Spreedbox with the fastest MicroSD and highest capacity available on the market at the time of shipment.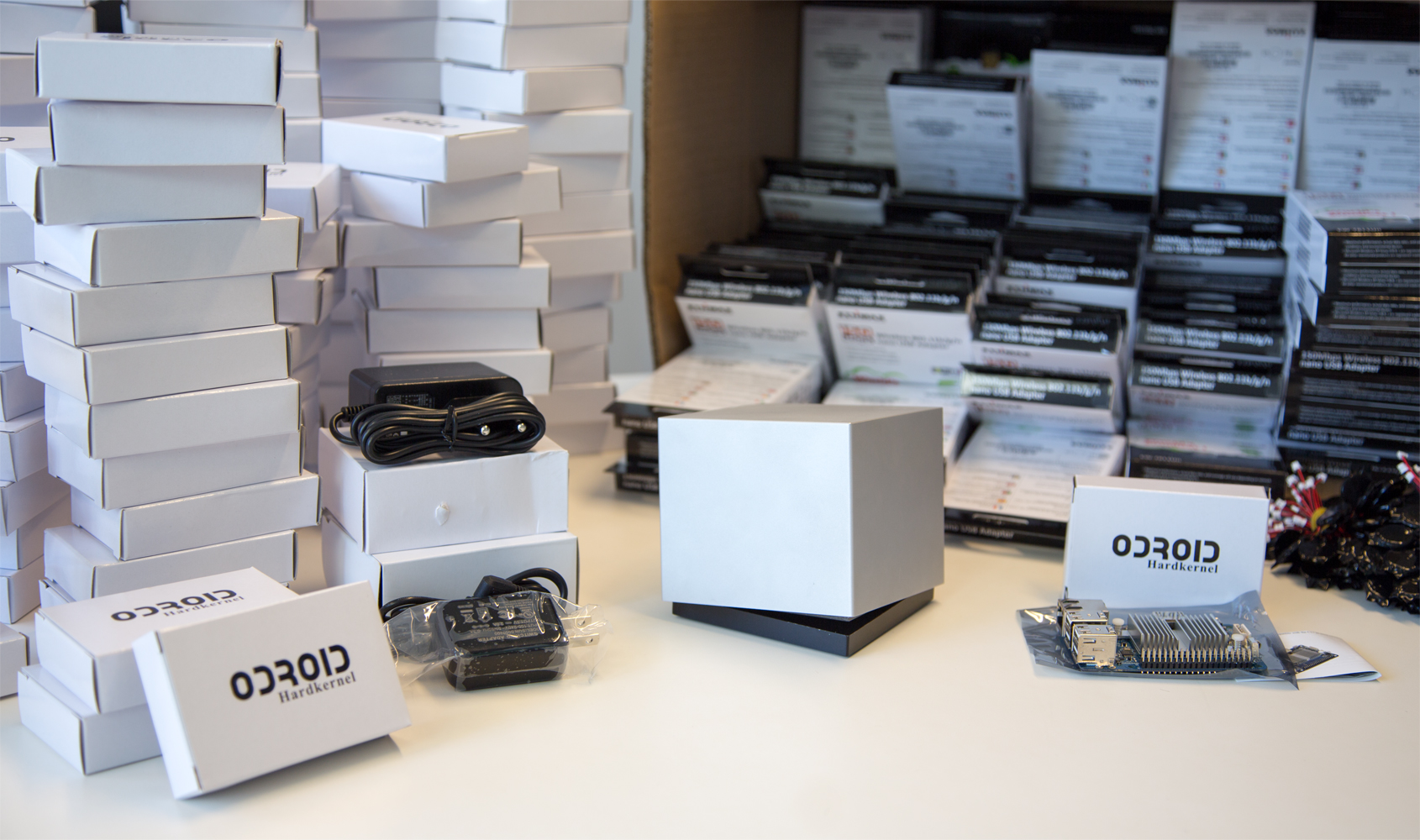 Design improvements
The Odroid C1+ now comes with a standard HDMI port (no mini HDMI cable required any more), micro USB OTG port (can be powered) and optimized locations for DC input and heat sink. We made all changes required for the C1+. We also made an important improvement for the light diffusor. The light diffusor now simply clips into the aluminum case. Opening the case just requires 2 precision screws to be unscrewed. No worries, we use standard screws. The Spreedbox will also come with an integrated backup battery for the realtime-clock (will last 5 years minimum).
Volume production journey
We produced another sample of the Spreedbox to verify that everything fits perfectly after the improvements we have made. During this step we have not been fully satisfied with the aluminum surface, namely the hard-anodizing and other surface treatments. Our supplier was not able to deliver an even and smooth aluminum (III) oxide surface, also known as sapphire or corundum (AL2O3). After weeks of iterations the surface was still too rough and did not approximately meet the quality we were looking for. All together the supplier took more than 6 weeks to make one sample for volume production plus 2 more weeks for anodized aluminum specimens. Finally, the time consuming experience ended up in choosing a different supplier for the Spreedbox aluminum body. Vanessa and I decided to contract a new supplier to meet our quality understanding. To start the volume production, we are going to produce another Spreedbox body with stand and diffusor. These prototypes are time-consuming and expensive to make (roughly about 2500 US$ for a single piece). Nonetheless, we do not expect a significant delay for the planned shipment date in November.
These are the anodized aluminum probe bodies we got from our first supplier. As you can see the probe surfaces were uneven and rough.

Hardware Random Number and Key Generator
Naturally, we invested the time our supplier soaked for aluminum body sample production and used the time for engineering. We plan to ship the Spreedbox with a versatile and reconfigurable hardware for cryptography and ultra high-performance HWRNG. Circuit diagrams are expected to be available soon. Stay tuned.
Software
The Spreed software team did a gargantuan job in releasing a bunch of software packages: the Spreed WebRTC server, WebRTC iOS app, Iridium Secure WebRTC Browser and the released open source H.265/HEVC codec libde265. See GitHub and https://spreed.me sites for further info.
Embedded Nextcloud
We made it! Your Spreedbox will come with Nextcloud installed. Nextcloud is one of the most useful and easiest to use software I know. I really, really love Nextcloud. With the Spreedbox, I synced my mobile with thousands of addresses within minutes. This would take forever with the Cupertino service. Not to forget, the Spreedbox is very economical with just 2.5 Watt power consumption from the AC plug (90-250V). I connected a 1.75TB 2.5" Seagate hard-drive and the power consumption just went up to 3.8 Watt AC in always-on standby. File sharing, calendar, address book, photos and videos. All data securely stored in your own hands. Think about backup? Yes, we have plans for cloudless backup.
Packaging
The weight of the Spreedbox is the result of pure metal. An appropriate packaging for worldwide shipment and display is out of question. Again, our friends from Schweizer Design Consulting did a phenomenal job in designing a gorgeous transport and shipping box for the Spreedbox. Drafts were made and finally the put-over cardboard box covered by an eleven degree shaped outer box with a deep black foam inlay for accessories made it. The design drafts may give you an impression of this simply stunning design.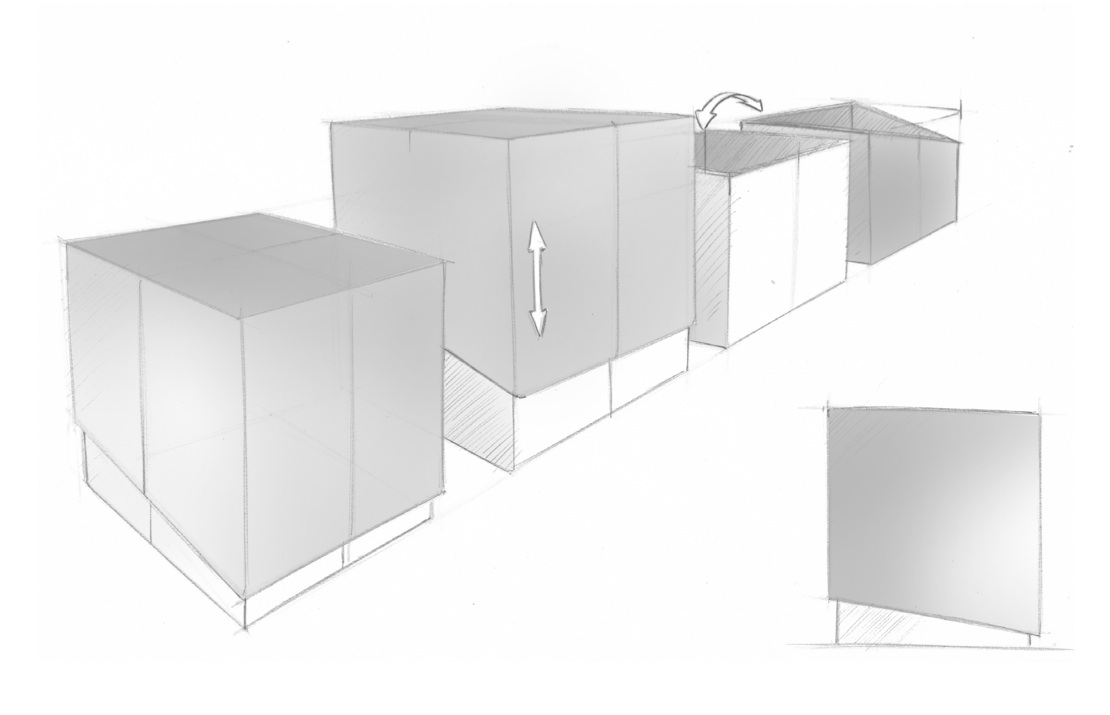 Color choices we were thinking of (design B was chosen)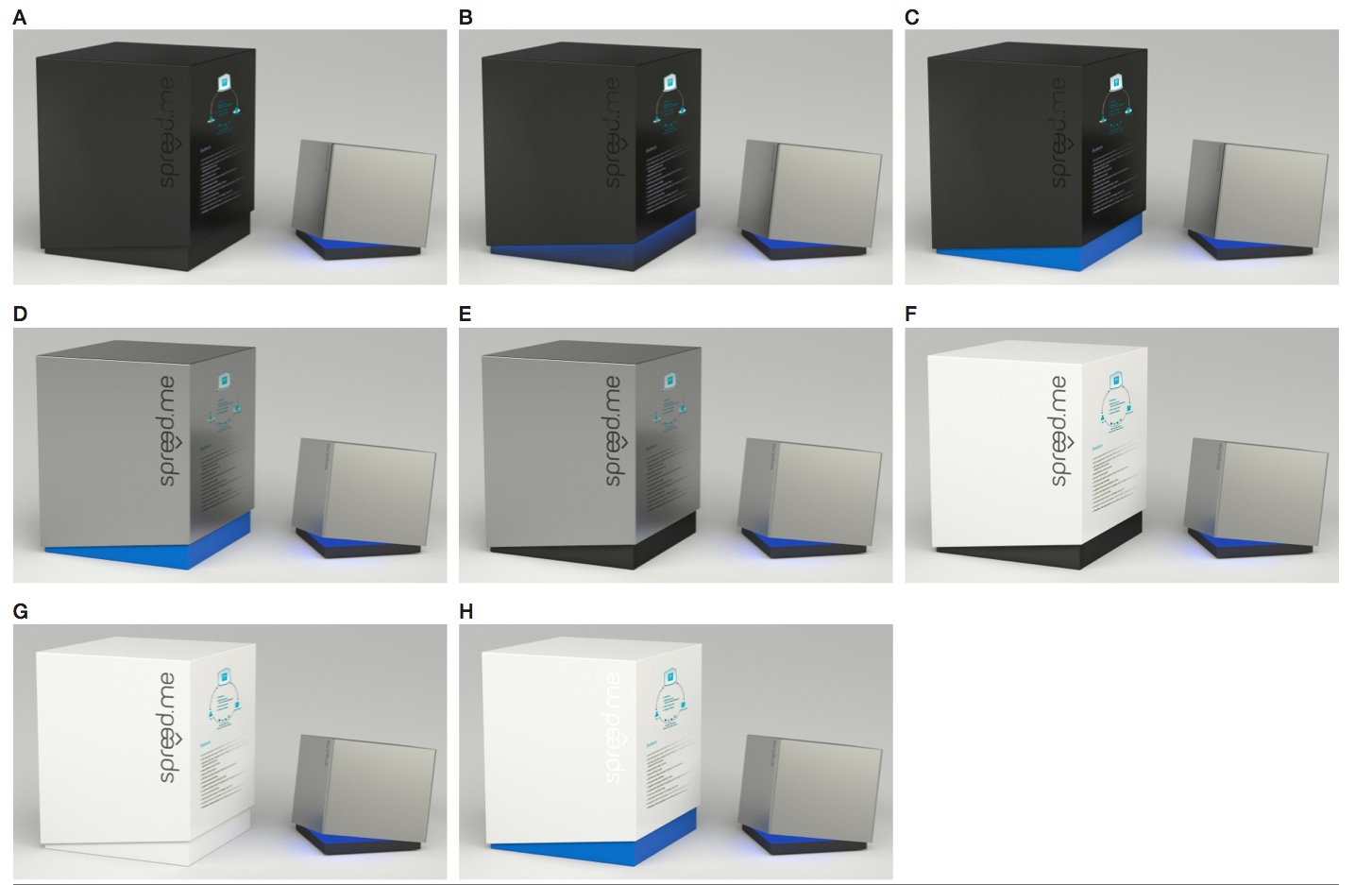 The actual Spreedbox package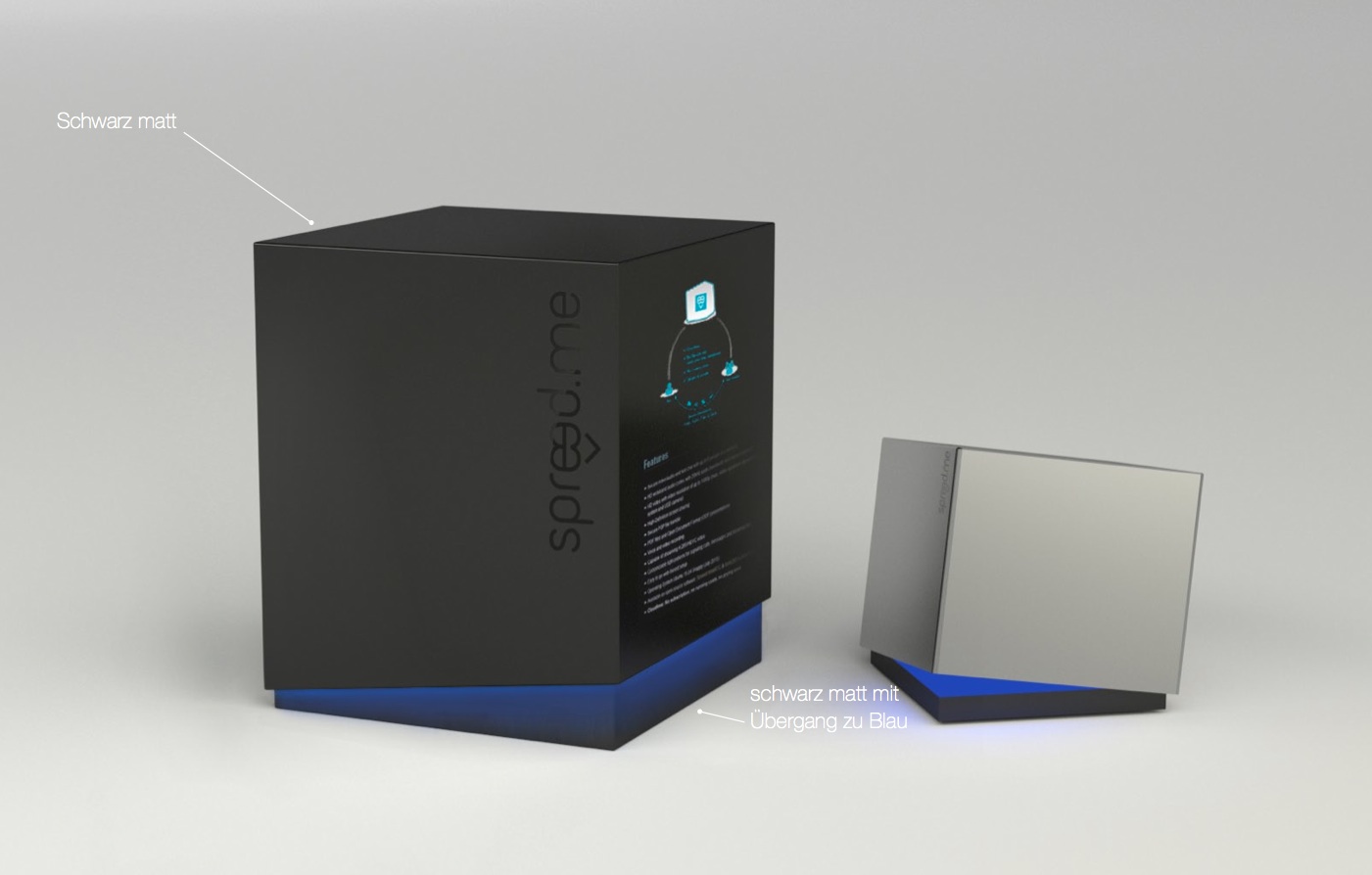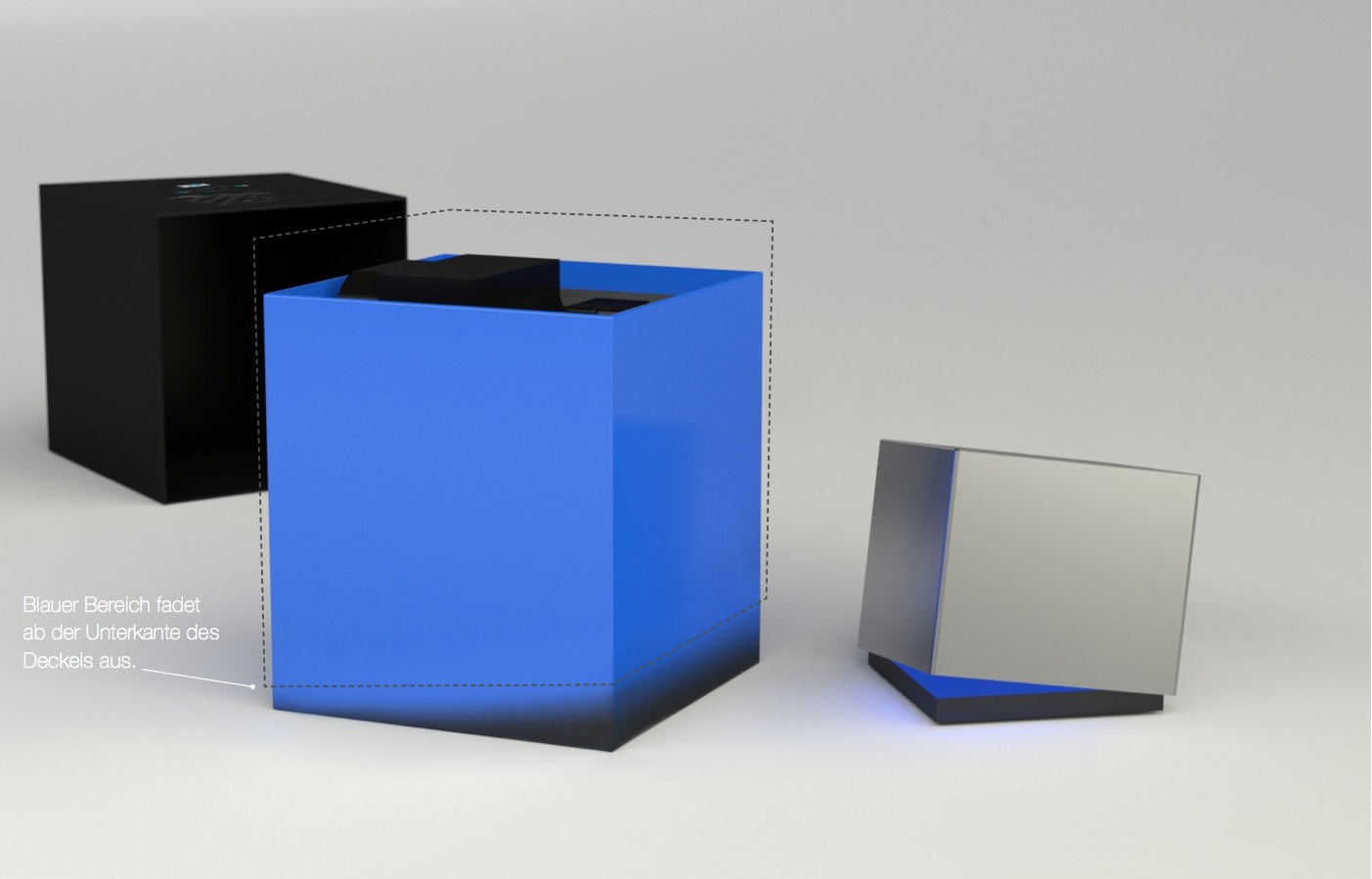 Thanks again for your trust and patience. We promise to keep you excited with frequent updates in the next few weeks.
With kind regards,
Niels and the Spreedbox Team

Collaboration under your control. Spreedbox is a private and secure cloud server for office collaboration, video conferencing and document exchange. Collaborate on important documents, manage your calendar and hold video chats without having to store data on external servers.
Public Cloud vs. Private Cloud
Today, most organizations utilize online services like Google®, Skype®, WebEx®, GoToMeeting®, and BlueJeans® for file sharing and communication. But where is your data and who has access to all your confidential conversations, files, videos and personal contacts? Sensitive information is often uploaded and shared with these service providers that lack adequate service and privacy agreements that meet your requirements in privacy and confidentiality.
With Spreedbox, your data will be stored on Spreedbox's flash memory. You can expand the storage capacity by adding an external disk drive (up to 4 USB ports are available) or to external storage services and the data can be encrypted by the Spreedbox before storage. Get all the benefits of the cloud without compromising your privacy.
Your Data, Your Control
Spreedbox empowers you to reclaim ownership of your data. Make a call, invite your friends and clients, and collaborate in closed groups through video/audio, text messaging, and document and file sharing. Spreedbox allows you to do this via computers, mobile phones and tablets through the Internet or limited to an Intranet. With the highest measurements for control and security, you can rest assured that your data will remain confidential on your personal Spreedbox. You can access your private data through an easy-to-use web interface with PC, Android and iOS devices.
Open Source
An international community of software engineers and volunteer contributors developed the server software and you are invited to get involved, too. The Spreedbox software is free and published under open source AGPL license which allows you to examine, share and modify it.
Unparalleled Security
Spreedbox firmware is Linux based, providing a world-leading level of security as transactional components with rigorous application isolation. Using well-implemented secure cryptographic algorithms, a high-speed quadcore CPU and two independent hardware true random number generators (TRNGs), Spreedbox features an outstanding cryptographic specification well above any industry standard.
Use One, Deploy Many
Spreedbox is instantly ready to use. Using one Spreedbox, you can securely host a meeting with up to 6 people in a session. You can use video/audio, share files and collaborate on documents. Up to 10 group sessions can be held simultaneously, each with 6 attendees. This is an awesome capacity of real-time meeting. Up to 60 people at any one time – all with a single Spreedbox.
One Last Thing
As Spreedbox is your private cloud, you can video chat and share globally 24 hours a day, 365 days a year. There are no fees, no subscriptions and no running costs.*
*Electricity and Internet connectivity is on your account.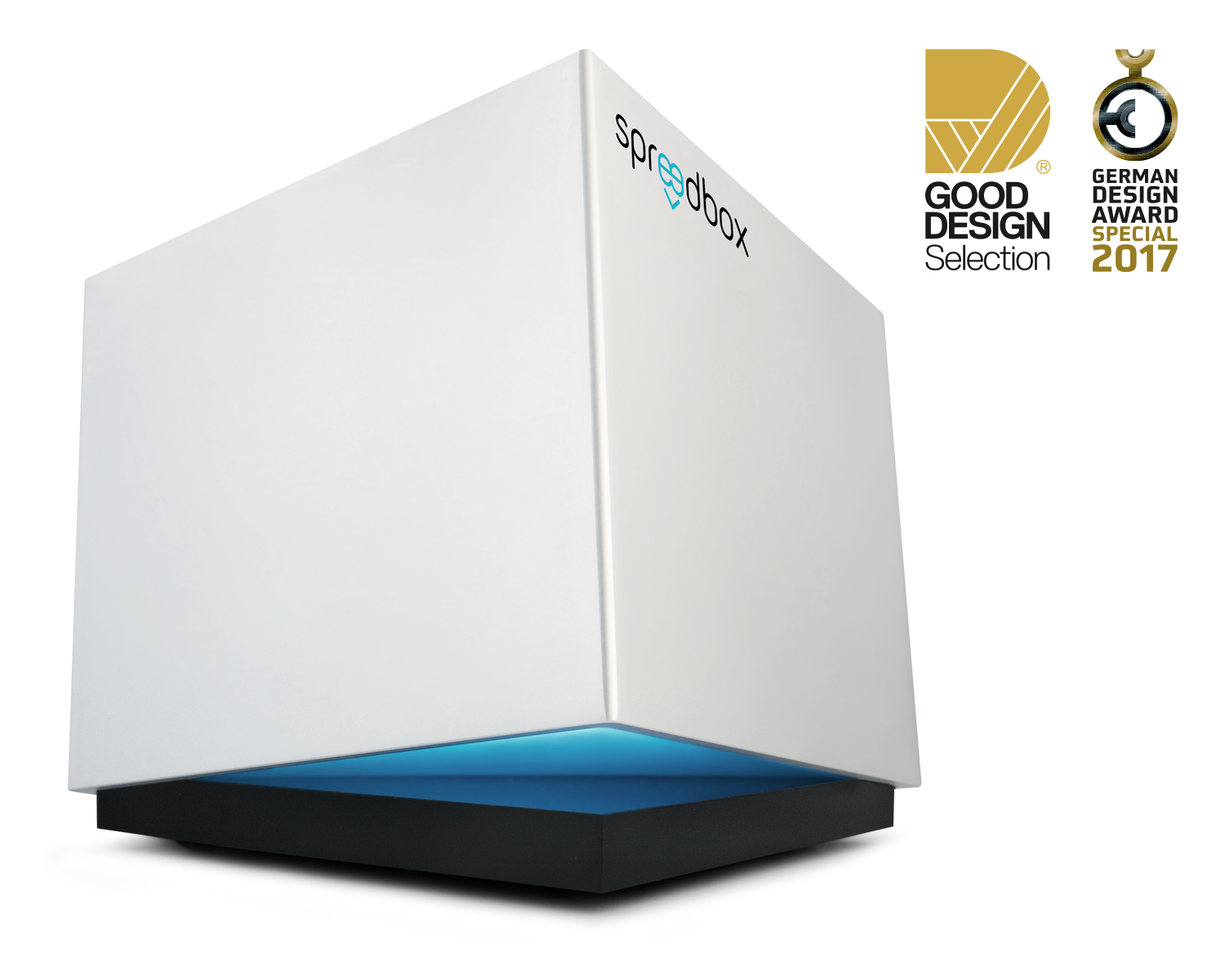 Award-winning Design
Spreedbox received the Good Design Selection Award 2016 and German Design Award Special Mention 2017.
Purity
Spreedbox is made from a single piece of aluminum. Its unibody is milled from a solid block of aluminum, finestly milled and surface treated.
Strength & Durability
Its beautiful anodized finish keeps the Spreedbox from corrosion and provides a hard and (mostly) scratch resistant surface.
Ease
Spreedbox is quiet due to passive cooling. Its large surface and thermoconductive material keeps the box cool at all times.
Brilliance
Its customizable color patterns notify you about calls, voice/video messages and incoming files. The well-engineered LED diffusor maps the radiated light onto a beautiful carbon black stand.
These outstanding details manifest the awesome design & function of the Spreedbox.

Ultra-secure stand-alone Nextcloud Hub server (Nextcloud 18 – www.nextcloud.com)
File access, document editing (Word, Excel, PowerPoint, LibreOffice), chat, calendar, contacts, team management and much more
Access on the go with a simple user interface in your browser and mobile apps
Secure exchange with colleagues, partners and customers
Multilayer encryption for data and communication
Comprehensive monitoring and audit logging
Extended permissions, file access control and authentication options (2-factor, etc.)
Customizable LED color patterns for calls and incoming files
Support of U2F tokens (YubiKey/Yubico/Fido, Nitrokey and others), on-time recovery key option
Support of Free OTP, Google Authenticator, Microsoft Authenticator, etc. (TOTP, RFC-6238)
Crypto-hardware with two (2) independent, super-fast hardware True Random Number Generators (HWRNGs, TRNGs)
64/128/256GB and 512GB Flash SSD (externally expandable)
1GBit Ethernet connection and WLAN adapter included
Award-winning design. Worldwide Good Design Selection Award 2016 & German Design Award Special Mention 2017
Unibody housing made from a single block of aluminum, finestly milled and surface finished in Germany
Silent (fanless) with ultra-low power consumption (3.5 watts)
110-240V multi-plug (EU, UK, US, CN, HK, AU) power supply included. Certified power supply for Japan available.
2 years warranty and guarantee
Made in Germany. 100% hardware and software developed in Germany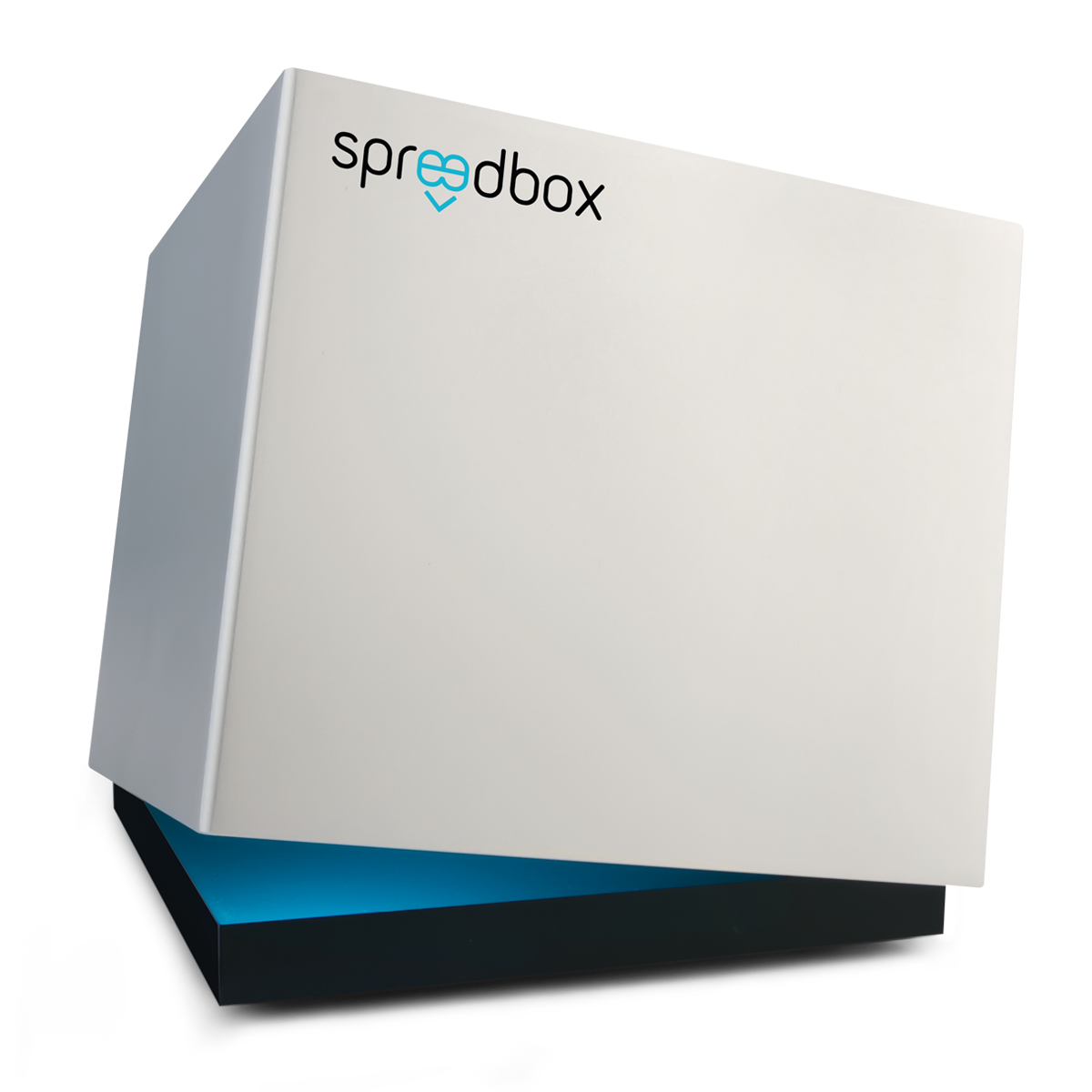 True Random Number Generators
The Spreedbox Secure Key HRNG is a hardware unit
 that generates informational entropy as bit-serial
 random numbers and presents it over the Serial
 Peripheral Interface (SPI). This allows you to improve 
the quality and availability of random data needed 
by the Spreedbox for cryptography and security, and 
eventually for your own purposes.
The Spreedbox hardware random number generators 
are designed to be verifiable and hackable. The
 entropy source of the Spreedbox HRNG is derived
 from two avalanche diodes arranged in a bridge 
circuit that is amazingly fast, reliable and effectively 
suppresses incoming parasitic noise-like signals 
from the environment.
For enhanced privacy and security, Iridium Secure Browser is available.
End-2-End Encryption (DTLS 1.2, TLS 1.2, DTLS-SRTP)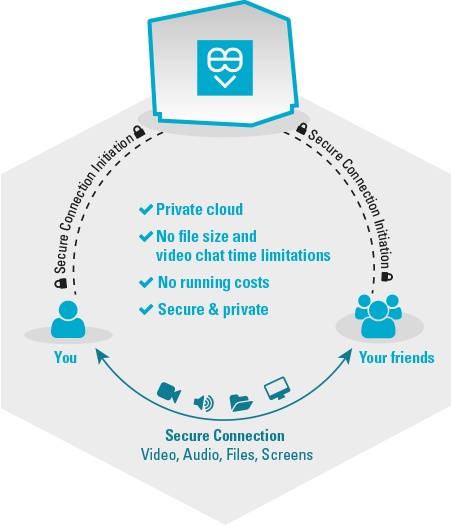 Securely use your Spreedbox with web browsers and apps:
WebRTC Browser:
Any WebRTC browser, currently Chrome, Firefox, Iridium, Chromium and Opera
Nextcloud App:
Available for iOS and Android
Nextcloud Talk App:
Available for iOS and Android
Nextcloud Desktop Apps:
Available for Linux, Windows and Mac OS
Iridium Secure WebRTC Browser:
Get the most secure browser here: https://iridiumbrowser.de/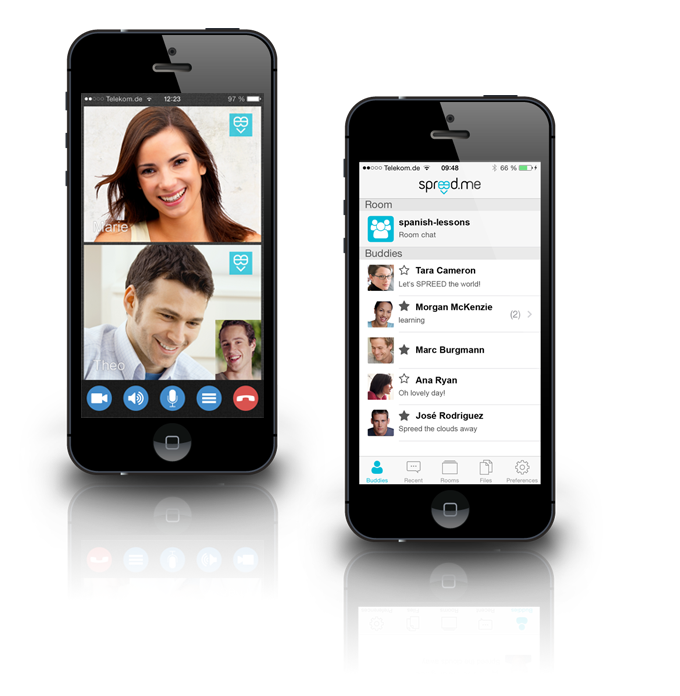 The primary use of the Spreedbox is private and secure video chat and file exchange. In industry applications information security is pervasive in sectors with an increased requirement for secure and private communication:
Information Technology
Industry: construction, automotive, aerospace, semiconductors, government
General Engineering & Design Manufacturing
Financial Industry
Lawyers, Advisors & General Consultancy
Research Laboratories & Universities: general science collaboration
Government
Hospitals: collaborative environment for radiology and medical imaging. Secure, real-time exchange of diagnostic reports, sharing of medical imaging in real-time across desktop and mobile devices
Doctors: medical consultation
Schools
General secure communication and secure file exchange.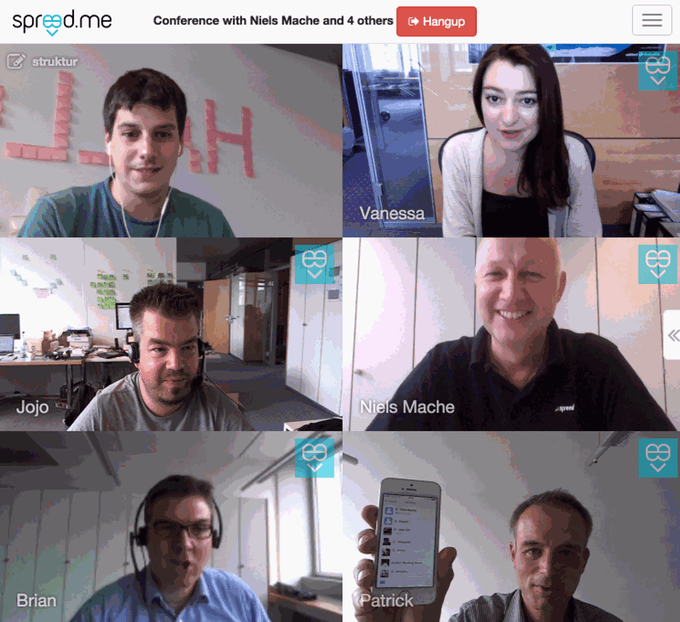 Please note: This is just a GIF and does not reflect the real quality. As you might expect with HD, the quality of a Spreedbox video call is way better.

64/128/256GB and 512GB Flash SSD (externally expandable)
Gigabit Ethernet 10Base-T, 100Base-TX, and
 1000Base-T IEEE 802.3 standards, WLAN adapter included
Award-winning design. Worldwide Good Design Selection Award 2016 & German Design Award Special Mention 2017
Unibody housing made from a single block of aluminum, finestly milled and surface finished in Germany
Silent (fanless) design with ultra-low power consumption (3.5 watts)
USB 2.0 Host x 4, USB OTG x 1
RTC (Real Time Clock) with backup battery
Pre-installed software on microSDHC UHS-I Class 10 memory card
eMMC4.5 HS200 Flash Storage slot
Customizable LED color patterns for calls and incoming files
Power Supply 100-240 V, 5 V/2 A, Standby
< 0.1W, conforms to EU Directive on Eco-Design (ErP). Multi-plug (EU, UK, US, CN, HK, AU) power supply included. Certified power supply for Japan available.
2 years warranty and guarantee
Made in Germany. 100% hardware and software developed in Germany

Height: 4.4 inches (11.1 cm)
Width: 4.1 inches (10.5 cm)
Depth: 4.1 inches (10.5 cm)
Weight: 2.8 pounds (1.3 kg)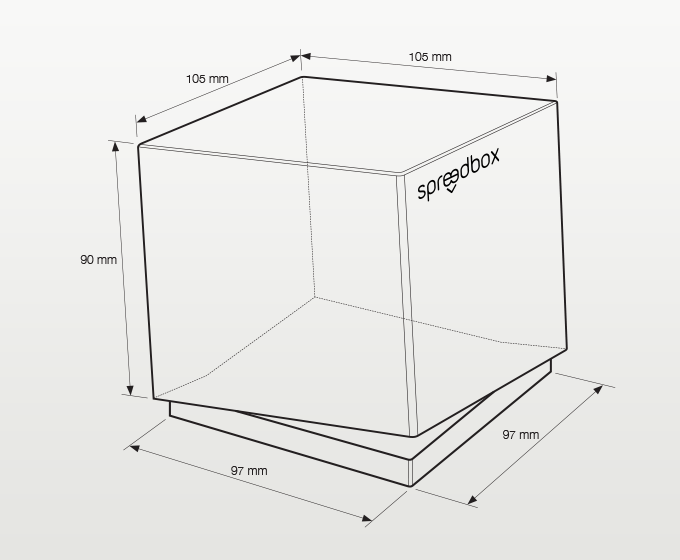 Spreedbox
Fast Flash
Power Supply 100-240 VAC
Wireless USB Adapter
Quick Start Guide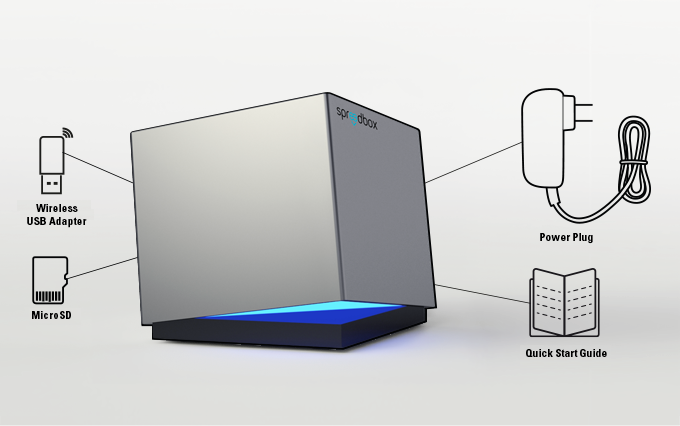 Spreedbox hardware include the following features:
RGB color LEDs. Colors and patterns can be programmed through Serial Peripheral Interface Bus (SPI)
A reliable, high-speed Random Number Generator (TRNG). The Spreedbox TRNG is connected through SPI
The Lattice iCE40 programmable FPGA with an awesome open source software design stack
A monotonic EEPROM counters and 32kbit memory option (you can add yourself)
The original hardware was designed with CADSoft Eagle. Because we have experienced delays in the manufacturing process of the Aluminum cube the time was used to re-design the schematics and PCB with KiCAD (open source).
The current version for volume production is v0.6. The Spreedbox schematics are available as PDF ([1], [2]) and SVG (further below). KiCAD eeschema files and libraries will be available after some cleanup of the part libraries.

The PCB was originally developed with CADSoft EAGLE and re-designed with open source KiCAD in December 2015. See rendered images of the Spreedbox printed circuit board: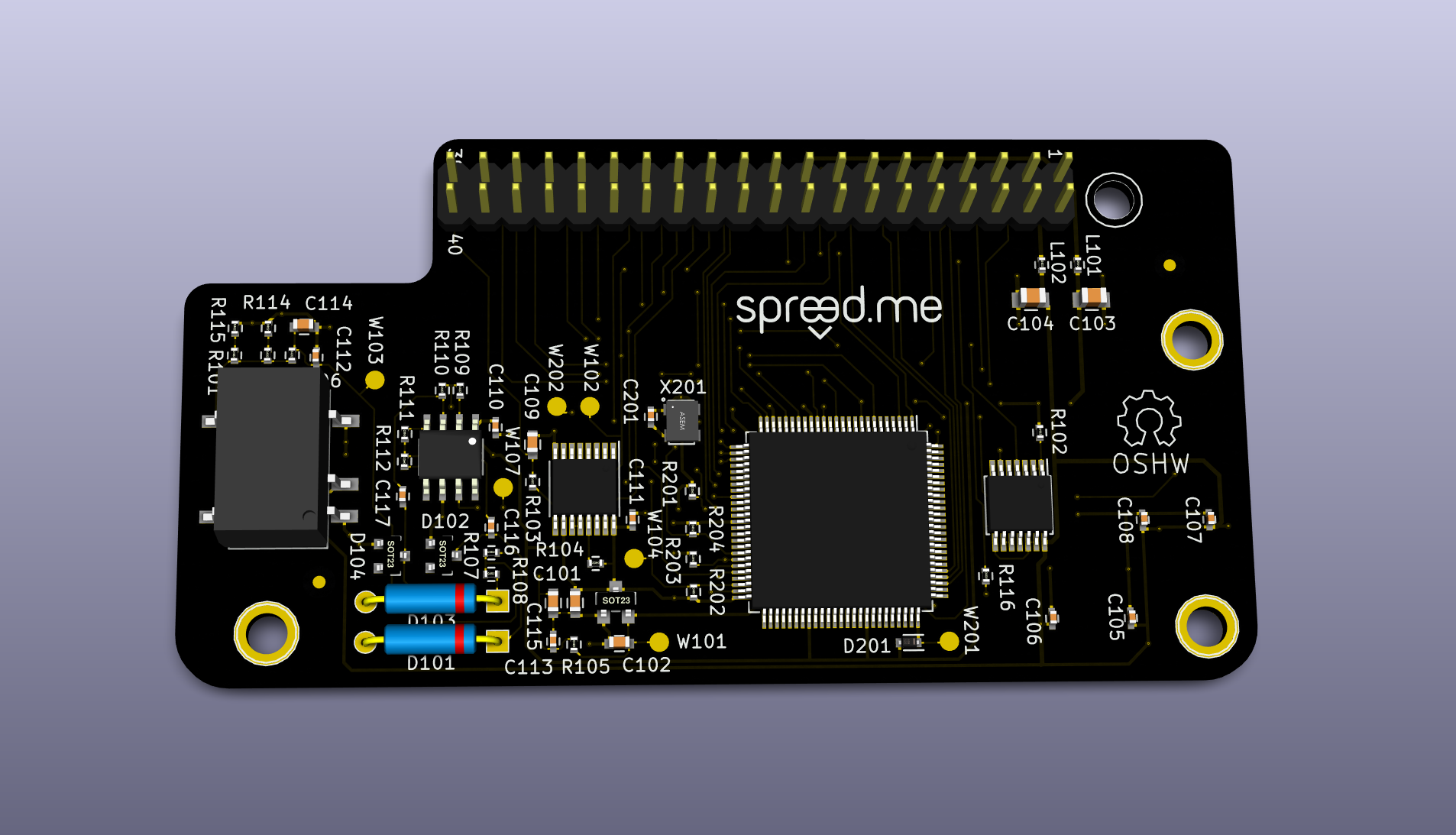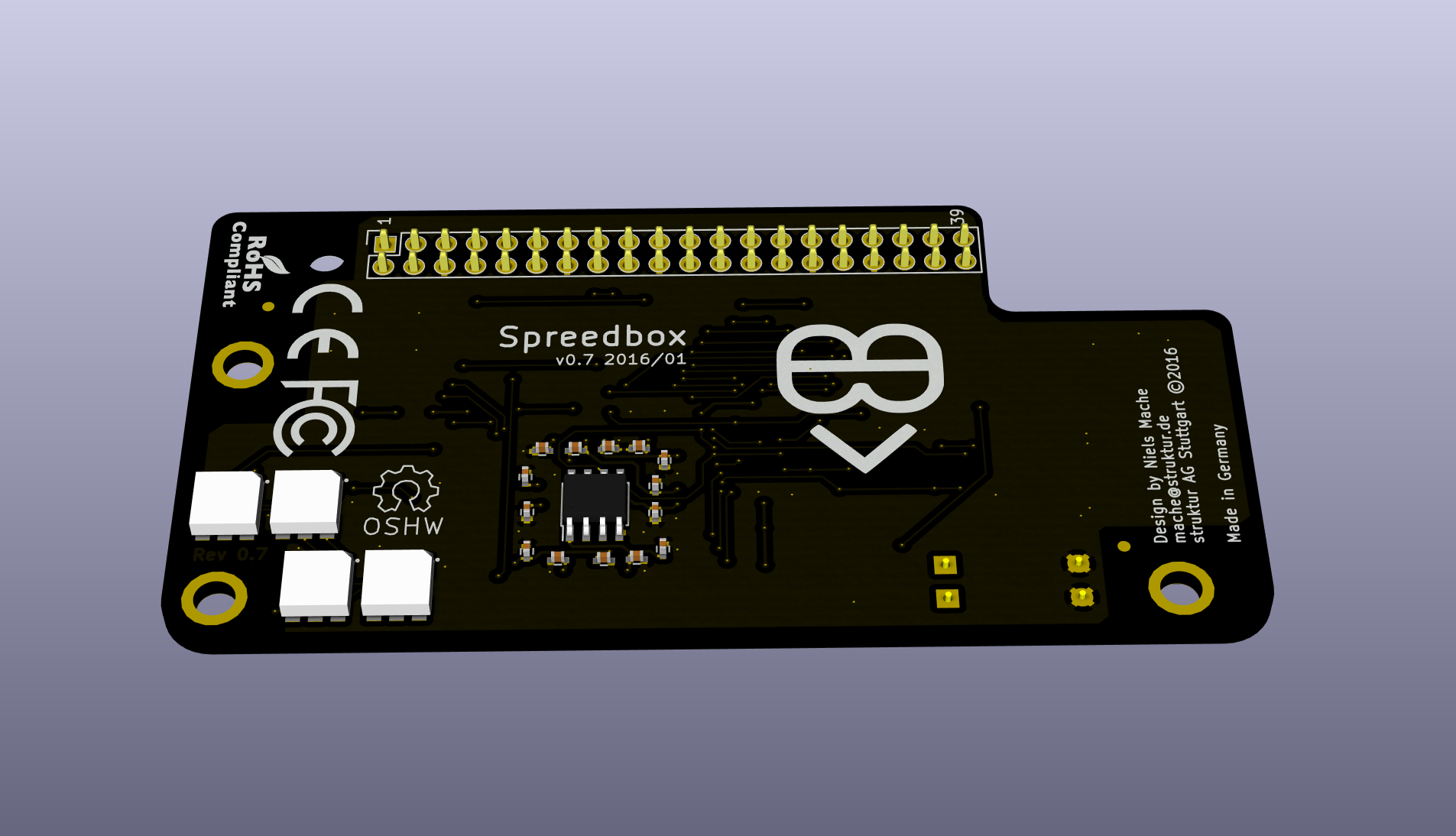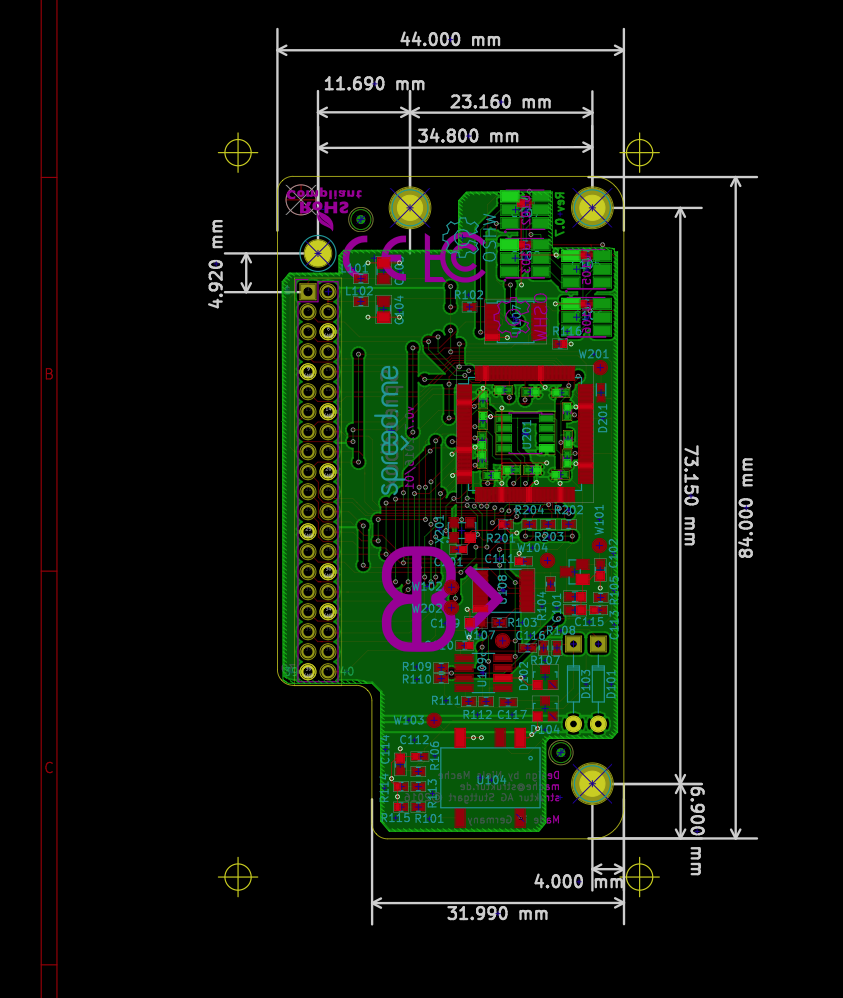 And some photos of the printed board: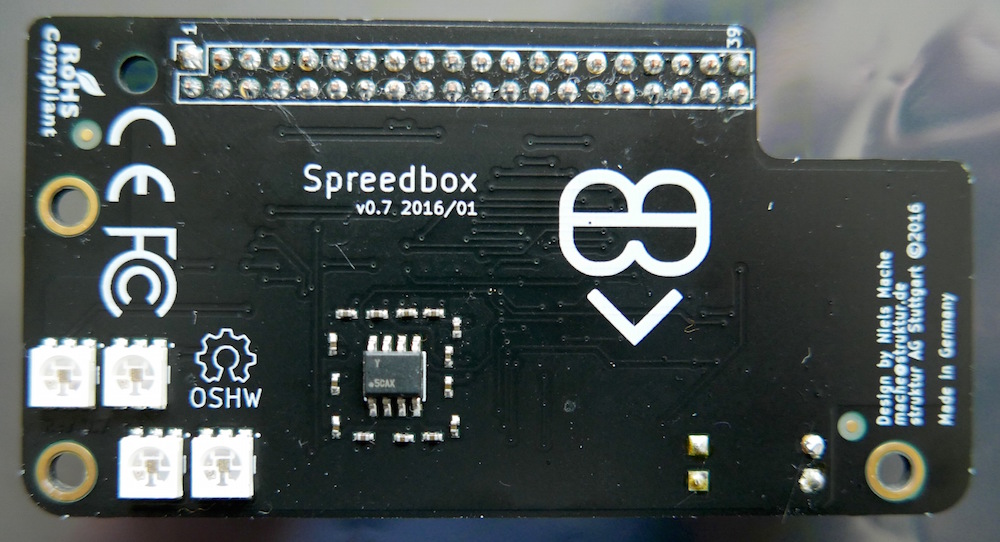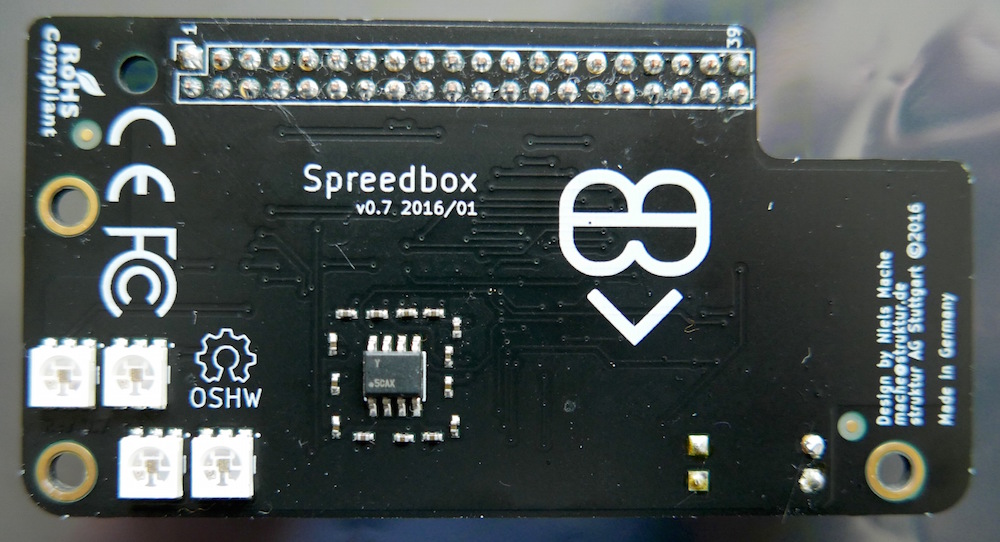 Soon to be available at GitHub.

iCE40 programmable FPGA board with full open source software stack.
Three open source projects have implemented a complete open source tool-chain for iCE40 FPGAs. The open source iCE40 tool-chain is feature complete. Timing analysis is still work in progress, a first release is available.

Documents the bitstream format for Lattice iCE40 HX1K and HX8K FPGAs provides tools for analyzing and creating bit-stream files: http://www.clifford.at/icestorm/


Verilog synthesis and verification tool Yosys is an open source framework for Verilog RTL synthesis. Yosys has extensive Verilog-2005 support and provides a basic set of synthesis algorithms including Mapping to Lattice iCE40 FPGAs.
http://www.clifford.at/yosys/

Arachne-PNR provides the place and route step of the hardware compilation process for FPGAs. It converts as input the Yosys [0] synthesis suite (or other Verilog or VHDL synthesis tools) output netlist in BLIF format. Arachne-PNR output is a textual bitstream representation for assembly by the IceStorm icepack command. The output of icepack is a binary bitstream which can be uploaded to the Lattice iCE40HX1K on the Spreedbox board.
https://github.com/cseed/arachne-pnr

Spreedbox-related documents: